Why I Love My 'American Dream'
By: Alyssa Thomas

Growing up in an active duty military family and living on many different military bases has made me appreciate what the United States stands for more than the average child. The military has provided us the opportunity to move from the lower to middle class and is the reason why I believe the American Dream is being able to live at least decently in a nice neighborhood with a stable income. It isn't about becoming rich or being famous, its about the tangible possibilities of bettering yourself. The beauty of my American Dream is that with dedication and hard work, it is possible for anyone who yearns for it to earn.
Powered by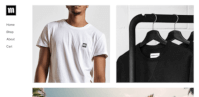 Create your own unique website with customizable templates.